high vibe skincare +
sacred self-care rituals
Rooted in healing, through miscarriage + motherhood. Empowering you to slow down, fall in love with taking deep care of yourself and awaken the goddess within.
discover luna rosa
homegrown
ingredients grown on our flower farm and/or ethically sourced
all natural
free of toxins, endocrine disruptors, SAFE for pregnancy + breastfeeding
handcrafted
in Alberta Canada, in small batches, with love and intention
cruelty free
never tested on animals, just friends
our roots
I didn't build my business, my business built me. My relationship with wellness was born when I entered motherhood. In the trenches of a soul-riveting postpartum depression that brought me to my knees in more ways than one. Breaking through the generational cycles and patterns that no longer served my highest self. I dreamed of creating a wildy beautiful, connective and healthy lifestyle for my family.
Read the full story
we believe beauty is ageless
You won't find the words 'anti-aging' anywhere on our products or in our brand. Aging is a rite of passage, a natural evolution as we journey through the human experience. Each line, crease and crevice on a woman's body has been earned and should be worn with pride.
view our products
spreading love + light
I truly believe that the greater impact we have on someone else's life, the more the universe rewards us. Each year, we donate proceeds from our Mother Nurture and Rainbow Baby Collection to local organizations in support of miscarriage and infertility awareness.
tell me more
as seen + heard in...

how I brought my babies earth-side when I had a 10% chance of getting and staying pregnant
I was told I had unexplained secondary infertility, pre-mature ovarian failure and diminished ovarian reserve.
Continue reading
easy natural cold + flu remedies
Tis the the season for fevers, runny noses and lingering coughs that won't go away! 
Continue reading
the flower story
I drank my coffee this morning, gazing out at my snow covered garden - dreaming up this year's garden plans and browsing through my seed catalogue... 
Continue reading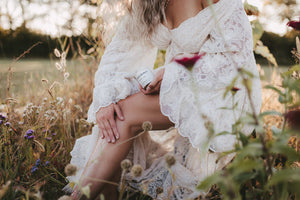 high vibe botanical skincare
put yourself first
You're so busy taking care of everybody else, who's taking care of you?
view our products