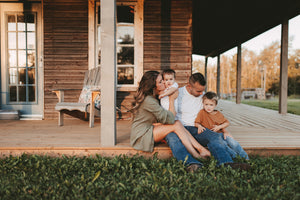 our roots
get to know us!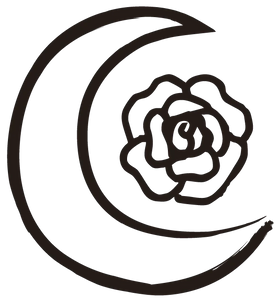 Luna Rosa is a flower farm + apothecary creating high vibe botanical skincare and wellness offerings for the body, mind, spirit + home
Each offering is intentionally crafted with love + light. Inviting ease + flow into your life with sacred self care rituals.
By using herbal ingredients that are grown on our flower farm here in Sturgeon County, Alberta, foraged from the wild and sustainably sourced. Each product is intentionally crafted with love, creating safe and natural essentials for you and your family that provides a holistic approach to nurture your connection to nature, wellness, self care, and self love.

Luna Rosa truly is a family run business. Seeds sown by little hands, herbs + flowers harvested from our gardens and infused into our skincare to bring you the most beautiful and sacred botanical self care rituals.

The name Luna Rosa is rich in meaning. Luna represents the moon - the divine feminine. As women, we are deeply connected to the moon, her energy and cycles. By harnessing this connection, we access a gain to a higher frequency of living and control over our life and dreams. Rosa stems from the rose - the heart chakra and representation of love. Just as the rose has the highest frequency vibration of any tangible thing, our products and rituals bring the highest vibration of love, bliss and joy to our village.

Together, the combination of the powers of the moon and natural gifts of the earth creates pure magic, and that's what Luna Rosa hopes to share with it's community.

With love + gratitude, we are honored to share a little bit of our heart and home with you in each and every product!
the flower story
"It dawned on me - how plants have healed, guided + nurtured me in the darkest most lonely times of my life, that my personal wellness journey with plant medicine didn't start just when I was going through miscarriage and infertility."
read the flower story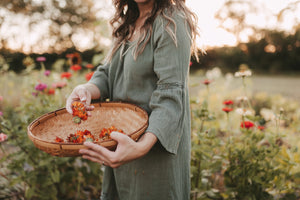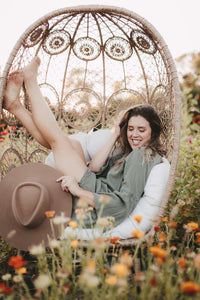 hey, soul sisters!
I'm Chantelle
Founder of Luna Rosa. A heart-led soulpreneur, hippie dippie mama, trained herbalist specializing in botanical skincare, photographer, aquarius rising, leo moon, human design projector, habitual learner and the wearer of MANY hats!

An east coaster at heart, born and raised in small town Nova Scotia, now settled and planting roots in Sturgeon County, Alberta with my husband Dale and double rainbow boys, Easton + Wilder.

The dream life for me would be living in a VW van, with a white picket fence around it.... adventure, freedom WITH roots and stability... ya feel me?
my journey
My healing and self-discovering journey through motherhood, recurrent miscarriage + infertility inspired me to carry the torch and light the way to empower women to fall in love with taking care of themselves first, naturally. Using products with ingredients free of chemicals, toxins and hormone disruptors.
we believe beauty is ageless
You won't find the words 'anti-aging' anywhere on our products on in our brand. Aging is a rite of passage, a natural evolution as we journey through the human experience. Each line, crease and crevice on a woman's body has been earned and should be worn with pride.

With age come knowledge, spiritual growth, maturity and exponential wisdom gained through overcoming life's challenges. Aging gracefully is truly a gift.
shop high vibe skincare
if I had to choose...
my current favorites!